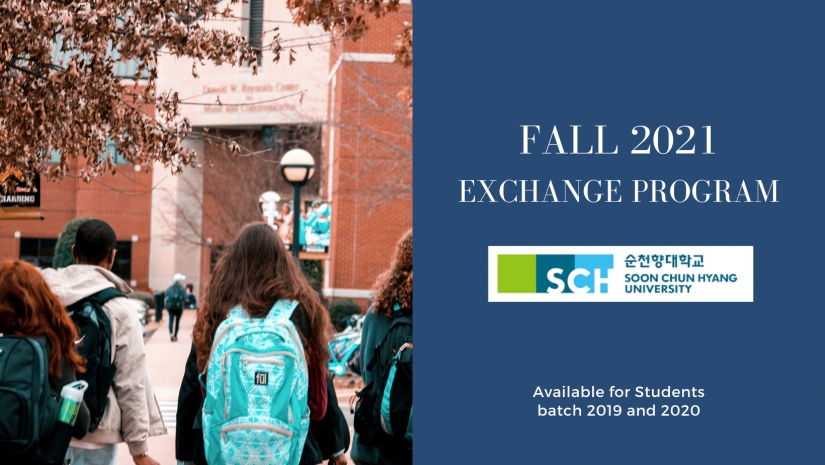 UGM's Korea Language and Cultural Study Program got you a Warm Greetings from Soonchunhyang University.
Soonchunhyang University has once again been selected as a university that can recommend students to the Korean government's scholarship program, and we will contact you like this. This scholarship program provides benefits such as living expenses, insurance, and airfare from the Korean government for overseas university students who have a sisterhood relationship with Soonchunhyang University. As a scholarship benefit, monthly living expenses of 500,000 won, settlement subsidy of 200,000 won per time, national health insurance premium, and round-trip airfare are provided. In addition, it is said that if you enter Korea before the start of the semester, the cost of living for corona isolation is also provided.
They would like to ask for one student recommendation for the fall semester of 2021. As a scholarship student for the fall semester of 2021, the scholarship period is 4 months from September to December 2021.
The deadline is not that long, so if you give us your documents by June 10th, you can scan them and send them by e-mail. Can you give me a reply first if it is possible to recommend a student?
Brief scholarship details and recommended student eligibility requirements are as follows:
Scholarship period: 19 January-December 20 (4 months) <One semester, scholarship period cannot be extended>
Details of scholarship support: settlement support, monthly living expenses, insurance fee, airfare
○ Settlement support: 200,000 won (paid once at the beginning of the semester)
○ Living expenses: 500,000 won per month (paid monthly)
○ Round-trip airfare: paid within the actual cost standard set by the National Institute of International Education
-Round-trip airfare is to pay for travel to and from Korea for domestic studies, so airfare for                 personal schedules is not supported.
-Return airfare is paid only when returning home within 30 days after the end of the program
○ Medical insurance premium: Monthly health insurance premium payment
Eligibility requirements for scholarship recommendation○ Students with foreign nationality from universities that have signed an agreement with the selected university and are not currently studying in Korea (undergraduate students only)
○ Students with a total academic grade of 80% or more while enrolled in a foreign university affiliated with the original university
※ Students must have attended at least two semesters while enrolled in the original university.
○ Students participating in the regular exchange student course
○ Students who have not received a scholarship provided by the Korean government in the past
○ Applicants with dual citizenship including Korean nationality cannot apply.
○ Exchange students are prohibited from applying for scholarships to different mathematics colleges.
○ Students who are required to take 1 course (2 credits or more) related to Korean or Korean culture during the study period in Korea
○ One student cannot apply to two domestic mathematics universities at the same time.
Students' tuition is waived according to the two-school agreement, but dormitory fees must be paid. Students stay in the Global Village dormitory at our university, and the dormitory fee for one semester is 815,000 won. Students will be notified of payment at the beginning of the semester after entering the country
As of now, all entering Korea must self-isolate for 14 days. International students at Soonchunhyang University will enter Korea in mid-August 2021 and go through a 14-day self-isolation period in the school dormitory. Dormitory fees during the 14-day self-isolation period do not have to be applied by Soonchunhyang University. However, during this period, the cost of meals (to be delivered as a lunch box) must be paid by the student and is about 300,000 won. NIIED plans to support living expenses for the self-isolation period for up to 15 days, and about 250,000 won can be provided.
The National Institute of International Education will select students recommended by their university.
How to apply 
You can check all the forms by looking at the attached file (here), the factsheet about the scholarship (here) and the SCHU information sheet (here).
send your full application document by E-mail to
studikoreafib@ugm.ac.id (cc: suray@ugm.ac.id)
All documents must be written in Korean or English, and if the document is in the original language, it must be translated into Korean or English.
If you have any queries about the SCHU 2021 EXCHANGE  PROGRAMS, please do not hesitate to contact our office (line/wa prodi)