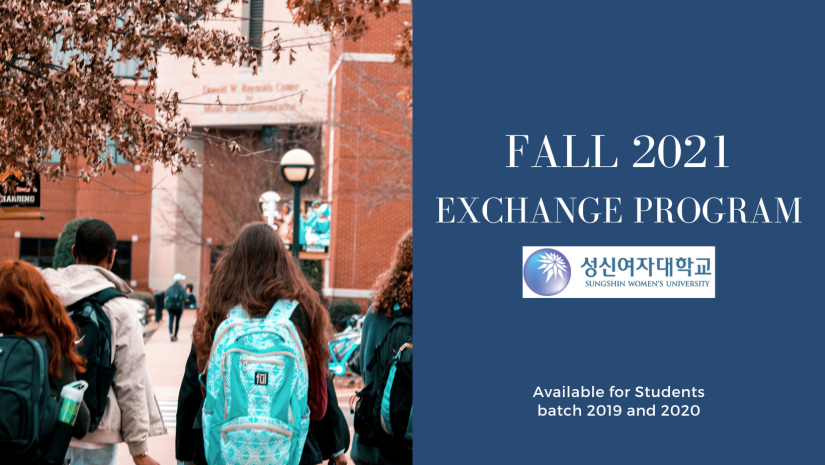 UGM's Korea Language and Cultural Study Program got you a Warm Greetings from Sungshin Women's University!
Our office is looking forward to welcoming outstanding students to be a part of SWU through the exchange program.
And we are processing all incoming applications for the Fall 2021 admission as follows
Period 
August, 2021 ~ December, 2021 (6 months)
August, 2021 ~ June, 2022 (1 year)
Eligibility 
UGM's Korean language and cultural study program students (batch 2019 and 2020)
Other UGM's student batch 2019 and 2020 are allowed to apply this program.
Coverage 
Exemption for tuition
dormitory fee, insurance fee and living expenses, etc. borne by the student
Application documents
 입학 신청서 (온라인)
Online Application Form (direct link )
여권 사본
Copy of valid Passport(Page with photo/name/date of birth must be
clearly shown)
성적증명서 영문 및 현지어 각 1부
Official Academic Transcripts each in English & in Native Language
증명사진
Color ID(passport) Photo (3.5cm x 4.5cm) file to upload
한국어 또는 영어 어학성적표 (필수 사항 아님)
TOPIK or TOEFL(IELTS) Score (Not required)
건강진단서
Health Examination Form (please refer to the Fact Sheet for detailed information)
How to apply 
send your full application document by E-mail to
studikoreafib@ugm.ac.id (cc: suray@ugm.ac.id)
Application deadline 
For more information you can click here or refer to SWU Website
If you have any queries about the SWU 2021 EXCHANGE  PROGRAMS, please do not hesitate to contact our office (line/wa prodi)