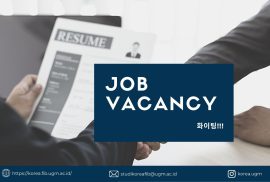 KOTRA (Korea Trade-Investment Promotion Agency) is currently looking for a highly motivated candidate to fulfill the following duties:
Job Description :
This position will conduct various marketing activities on behalf of Korean SMEs trying to penetrate the Indonesian market.
Detailed expected activities are like below :
Research and analysis to illustrate Indonesia's non-tariff barriers, utilization of Korea-ASEAN FTA, Korea-Indonesia CEPA and RCEP
Market research and analysis to illustrate the Indonesian market to Korean clients
Finding sales opportunities for Korean clients and bridging Indonesian buyers and Korean clients.
Supporting negotiation and communication between Korean clients and buyers to make a deal ultimately.
Plan and carry out direct marketing activities including making cold-calls, emails, follow-ups, setting-up the initial meetings, follow-up meetings, etc
Assist in writing and editing sales and marketing materials which includes presentations, articles, brochures, product information, website etc.
Provide assistance and support to director and the marketing consulting manager for various marketing and administrative assignments.
Organize/support industry seminars, trade delegation and exhibition
Other various marketing activities to help Korean SMEs to penetrate the Indonesian market.
You may cover various industrial products, which require fast learning skills based on your previous professional background and network-establishing skills with new Indonesian buyers in various fields. read more