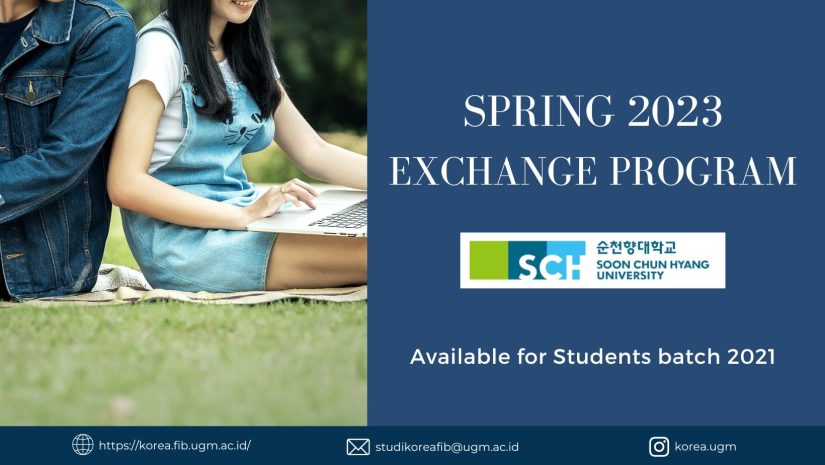 If you are interested to apply this program, please make sure to send a message to Pak Suray you are interested to apply.

Jika Anda berminat untuk mendaftar program ini, pastikan untuk mengirim pesan ke Pak Suray lewat whatsapp terlebih dahulu bahwa anda berminat sebelum mengumpulkan dokumen yang diperlukan.
Program Objective
Global Korea Scholarship for International Exchange Students is designed to provide international
students with opportunities to study at higher educational institutions in Korea for a semester student
exchange program, which will enhance international education exchange and deepen mutual
friendship between Korea and participating countries.
After rigorous evaluation process by National Institute for International Education (NIIED),
NIIED, Soonchunhyang University has been once again selected as a designated university for this
scholarship program.
Scholarship Details
1. Period: 2023 Spring Semester (March to June, for 4 months)
2. Benefits
▪ Monthly Allowance: 500,000 KRW per month
▪ Settlement Allowance: 200,000 KRW (paid only once upon arrival)
▪ Health Insurance: Korean National Health Insurance
▪ Round-trip Airfare (Reimbursement available within the set amount)
– Students must purchase their own flight ticket and bring the original receipt with them.
The reimbursement will be provided after arrival.
– Students will be able to get reimbursement only for their actual expenses up to the cap
amount as below
(Currency: KRW)
| | |
| --- | --- |
| Country | Max. Roundtrip Airfare |
| Indonesia | 1,257,100 |
Note: The above maximum airfares are subject to change.
Qualifications
UGM's Korean language and cultural study program students (batch 2021)
Must be full-time non-Korean nationality undergraduate students from partner universities of
Soonchunhyang University. Applicants who are currently residing in Korea or Korean dual
citizenship holders are not eligible.
Possess above 80% (out of 100%) in a grade point average (G.P.A.) achieved at home
institution.
Completed two semesters or more at home institution.
Students are not allowed to apply more than one university in Korea.
Those who have never received any scholarship from Korean government before.
Applicants must take at least one Korean related course (2 credit) during the study period.
Submission of Required Documents
One completed application form (Form provided)
Study Plan written by the applicant in Korean or English (Form provided)
Personal Statement written by the applicant in Korean or English (Form provided)
Please type your Study Plan and Personal Statement in the provided form (handwriting is not
accepted)
Scanned applicant's passport or birth certificate
Scanned Official university transcript
Scanned Certificate of Enrollment
Scholarship Conditions (*The details are subject to change.)
Students' tuition to Soonchunhyang University is waived under the student exchange agreement between the universities but students are still responsible for their dormitory fee (about 815,000 KRW for one semester) and other personal expenses. The dormitory fee is due in the second week of the semester.
The scholarship period is one semester (4 months) and it cannot be extended in any circumstances.
Monthly allowance will be calculated based on the number of days that students stay in Korea.
A round-trip airfare reimbursement will be provided only in case students return to their home country within 30 days of the end date of the semester. The airfare reimbursement only covers the itinerary between students' home country and Korea for study purposes. It does not cover any type of personal stop over during the journey.
Scholarship recipients must take at least one regular course (2 credits) on Korean language or culture during his/her study in Korea.
Scholarship recipients are required to write two page-long essays on their study in Korea at the end of the semester.
If scholarship recipients commit any of the following acts or fall under any of the situations
described below during their stay in Korea, their scholarship will be revoked.
Required Documents Submission Due date: Wednesday 21, 2022
All required documents must be submitted as scanned files via email at studikoreafib@ugm.ac.id (cc: suray@ugm.ac.id, desiar@ugm.ac.id) by Wednesday 21, 2022.
All documents must be written in Korean or English, and if the document is in the original language, it must be translated into Korean or English.
Documents:
2023 Korean Government Scholarship Program for International Exchange Students