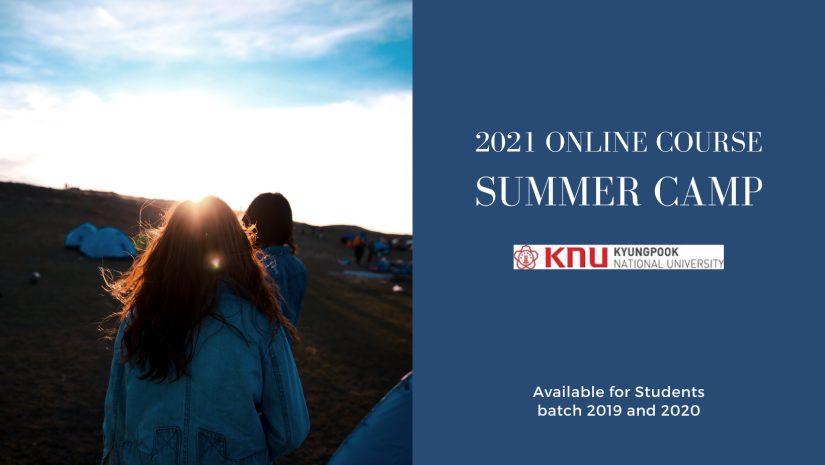 UGM's Korea Language and Cultural Study Program got you a Greetings from Kyungpook National University.
KNU has contact us about their plans for Online Summer School 2021.
The KNU Online Summer School is from August 9 to 20 (2 weeks). It brings together students and academics for a unique intercultural experience through lectures on global and Korean issues as well as the Korean language and culture. All courses are taught either in English or Korean, and you will take courses with other participants from all over the world.
Program Overview
Eligibility: A student who is currently enrolled in university/college and pursuing a bachelor's degree
Duration: August 9 – 20 (2 weeks, 3 credits)
Application/Payment Deadline: June 30, 2021
Curriculum
Korean Language (Pick 1)
Cultural Experience

Korean Language 1 (Basic)
Korean Language 2 (Intermediate)

Hanbok Try-out
K-Movie
Virtual Excursion

Korean Food
Taekwondo
K-pop
Application Process
Students from partner universities must be nominated by their home universities via knusummer@knu.ac.kr before submitting the online application – Students from non-partner universities must send 'name/home university name/nationality' directly to knusummer@knu.ac.kr
Complete the online application by June 30, 2021
Complete the payment and send a copy of the program fee payment receipt to knusummer@knu.ac.kr by June 30, 2021
All admitted students receive a copy of admission via email in mid-July(Those that need an original copy for visa issuance should send an email or request separately)
Program Fee
| | |
| --- | --- |
| Partner University | 100 USD |
| Non – Partner | 150 USD |
Make sure program fees are transferred under the name of the participant
Transfer commission must be paid by applicants
Fee Payment Account
Daegu Bank
Kyungpook National University Branch 111, Oksan-Ro, Buk-Gu, Daegu, South Korea
Account number : 532-10-123035-5
Swift Code : DAEBKR22
Cancellation & Refund Policy
Except for instances of serious illness or other acceptable reasons determined by the university, there will be no refund for cancellation. Cancellation requests should be made by email to knusummer@knu.ac.kr
On or before July 16: 100% refund
From July 17 to August 5: 50% refund
After August 6: No refund
Please note that bank-transfer charges will be deducted from the total amount refunded.
For more information you can click here or refer to this KNU Online Summer School Flyer
If you have any queries about the KNU 2021 Online Summer Program, please do not hesitate to contact our office (line/wa prodi).
Cheers