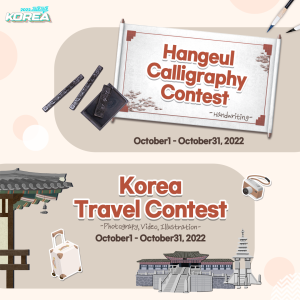 Big news! Gather around, those who want to visit Korea!
The first-place winner will receive a trip to Korea as a prize.
Simply enter the contest with your photos!
The 2022 Talk Talk Korea Contest is currently ongoing.
Now, Only "Korea Travel" and "Hangeul Calligraphy" contests are remaining.
There are amazing prizes available, such as a trip to Korea, a smartphone, and a Galaxy Tab.
TIP: We are giving away gift cards through a draw, so please participate as much as possible to increase your chance of winning.
Visit the official website and social media for more details!
How to participate:
Korea Travel Contest: Simply upload a photo of your trip to Korea to your social media account with the hashtag #TTK_experience! And you're all set!
Hangeul Calligraphy Contest: You can easily participate by writing calligraphy about Hangeul and posting the photo of your work on your social media account with the hashtag #TTK_write.
 
Prize:
First Prizes (7 winners, 1 person for each contest) – 2022 K Button (gold), a trip to Korea.
2nd place (14 winners, 2 people for each contest) – 2022 K Button (silver), Samsung Galaxy Smart Phone
3rd place (21 winners, 3 people for each contest) – Samsung Galaxy Tablet PC
4th place (28 winners, 4 people for each contest) – $100 Amazon Gift Card
5th place (70 winners, 10 people for eaxh cntest) – $ 50 Amazon Gift Card
For more detailed information please visit our official website!
Contest Website: talktalkkorea.or.kr
Contest SNS: https://www.instagram.com/talktalkkoreacontest/